NOLA 25th Anniversary 16x20 Commemorative Framed Plaque
NOLA 25th Anniversary Commemorative Framed Plaque (16x20)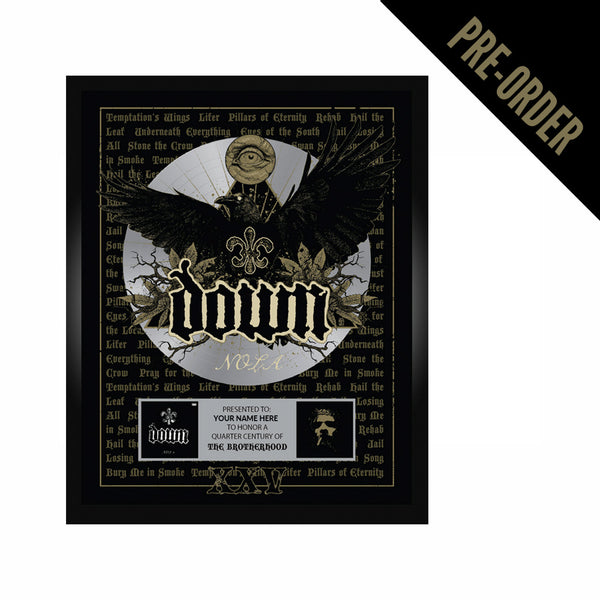 NOLA 25th Anniversary Commemorative Framed Plaque (16x20)
This is a custom made product and is considered a pre-order item. Please allow 5-6 weeks for your plaque to be delivered from the date your order was placed. This item will most likely be shipped via Fedex - please do not use a PO Box for a ship to address with your order as Fedex will not deliver it.

Personalized record award commemorating the 25th Anniversary of NOLA.
When ordering please include the name you would like to include on the customized inscription plate in the field above. 


Plaque measures approx.. 18.5 x 22.5 weighing 6 lbs.
Framed in a black 1.25" black frame
Custom graphic background
Platinum  12" color vinyl record with the Down logo above printed on the plexi glass
Personalized 3 x 10.5 silver engraved plate personalized with artwork mounted on either side
Ready to hang

*Band members names or affiliates cannot be used for personalization and since this is personalized, returns are not possible. No PO boxes can be used for shipping.